Sally and Dan were not like our typical wedding clients, and yet ended up being one of our favorite couples of 2018. Sally is a pharmacist and Dan was finishing his PhD in electrical engineering (among other degrees he already has) at Purdue. They are a no-nonsense, low-key, keep-it-simple couple, but that doesn't mean they don't know how to party. They also knew the critical importance of hiring event experts with years of experience to make sure their own experience was exceptional.
For their fall ceremony and reception, Sally hired a top-notch vendor team and planned for 200 guests to be treated to the entire 3rd floor of the Old Bag Factory in Goshen, IN utilizing all of Bread & Chocolate's event space. We started the evening off with a beautiful ceremony in the Gallery set to the soundtrack of "Pride & Prejudice", followed by a lovely cocktail hour, and dinner in the bridal suite. We supplied the ceremony sound system, a remote speaker for cocktail hour so guests could easily here music and announcements in the separate cocktail area, and beautiful candlelight-yellow uplighting for the ballroom to add warmth and a true "wow-factor" as guests entered the dinner and dancing space.
Later in the evening, Sticky Boots tore up the turntables for a full dancefloor of celebration as Sally, Dan, and their friends and family tore up the dancefloor. Sally is also a massive Lady Gaga fan, so you know there was a strong dose of Gaga throughout the night. At the end of the evening, the perfect comment came from Sally, who said "I even cried a little during the ceremony. I didn't expect that, but glad I showed some emotion." Yes, Sally…the best moments will do that to you! We love this couple and we loved this day!

WEDDING WIRE REVIEW:
Sally · married on 10/27/2018
5.0 Stars
Knows how to get a party going!
My husband and I hired DJ Sticky Boots for our ceremony and reception. He was wonderful throughout the entire planning process. Very professional and offered great suggestions to make our wedding evening run smoothly. He communicated with our venue about our itinerary/set-up, which allowed us to not be the middle man - so helpful! Our guests kept raving about our DJ throughout our reception and could not believe how organized our wedding was. He was also very professional during announcements and his transitions are on point. On. Point. You won't be disappointed if you hire The Music Place for your wedding. We all had a blast!
STICKY'S INSTAGRAM STORY: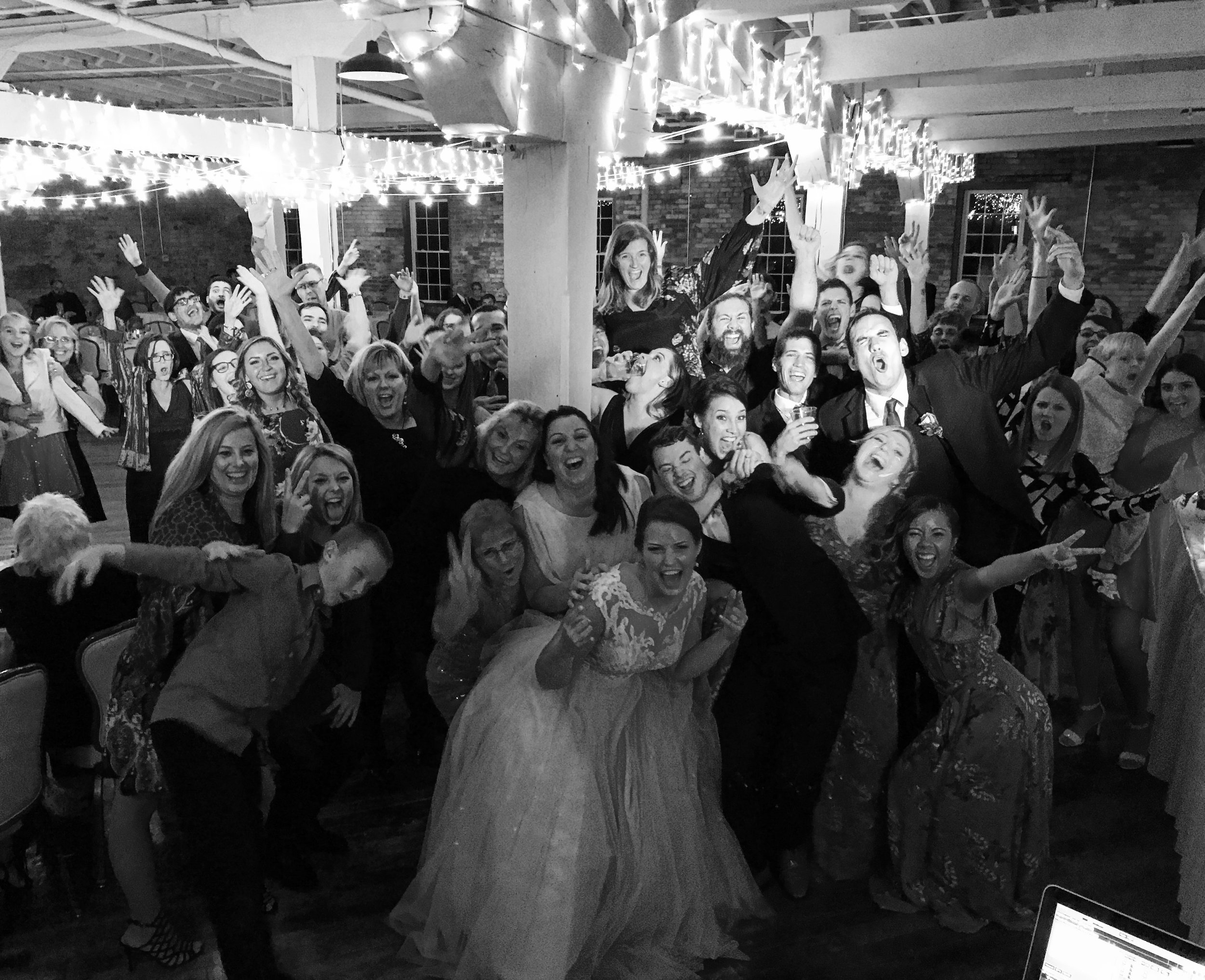 Ceremony song selections:
Bridal Processional: Dawn – Pride & Prejudice Soundtrack
Bride's Entrance: Liz On Top of the World – Pride & Prejudice Soundtrack
Recessional: Here Comes The Sun – The Beatles

Reception song selections:
Grand Entrance: Just Dance – Lady Gaga
Bride & Groom Entrance: Immigrant Song – Led Zepplin
First Dance: Grow Old With You - Ortopilot
Father-Daughter Dance: Daughter – Loudon Wainwright III
Mother-Son Dance: In My Life – The Beatles
Anniversary Dance: Can't Help Falling In Love With You – Elvis Presley
Vendors:
Bread and Chocolate at the Old Bag Factory
Grant Beachy Photo